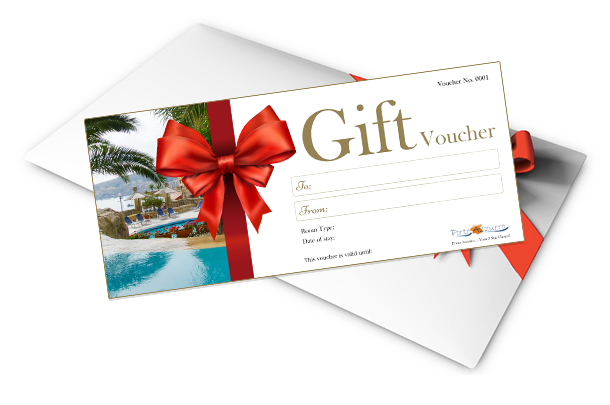 NEW! Gift Vouchers
Treat your loved ones or a friend to the perfect gift, order a Gift Voucher for a stay at our Porto Azzurro Aparthotel.
Do you want to offer a bit different but exciting present for a special birthday, for Christmas, or to say 'thank you'? Look no further. We are now offering gift vouchers, printed in the guest's name and send to you or to the person it is intended for when you ask for it. Our gift voucher is an excellent way to surprise a friend, a colleague, mom, bride-to-be, wife or your children with a memorable holiday break or a short stay in Malta.
Gift vouchers ordered will be issued and dispatched within 24 hours (except weekends and Bank Holidays, when they will be issued and sent the following working day).
(Terms & Conditions may apply)
To get started and to order your gift voucher send us an email at alexis@portoazzurro.com.mt.
We look forward to making this a special present for someone you care about.
Porto Azzurro … Your 3 Star Choice!
Terms & Conditions
Vouchers cannot be refunded, exchanged for cash and have no value unless redeemed in accordance with these terms.
Vouchers are not in conjunction with any other offer available.
Your gift voucher can be used for all stays bookable at www.portoazzurro.com.mt.
When making a reservation which must be prepaid at the time of booking, you have to contact our staff.
Your gift voucher must be presented at the front desk upon check-in, where our staff will ensure that your stay will be charged to your gift voucher and not your credit card.
Please treat your gift voucher with care, as it holds monetary value.
Porto Azzurro Aparthotel cannot be held liable for lost or stolen gift vouchers.
Only the person in possession of the gift voucher can redeem it.
If you have any questions, do not hesitate to contact us at alexis@portoazzurro.com.mt