Day By The Pool In Malta
We might have missed pool season in 2020, but Malta is ready for the summer season of 2021.
Why Day By The Pool? In our opinion, there's no greater pleasure than sitting by a beautiful outdoor pool with a book and a drink in hand. Also, if you live in Malta or plan to visit Malta, you (should) know that during the summer months, it can get scorching. A furnace, if you will.
So having a place to escape the heat during the hot months
is a must. A hotel visit with an outdoor or indoor swimming pool will almost always beat a day at the beach.
Not only that. No sand nor stones are getting all over the place, there is no risk of being stung by jellyfish, and no saltwater blinding you as you dive.
But pools are so much more than swimming areas and are not limited to being used solely for swimming. They can improve the overall atmosphere of any party. For example, our outdoor swimming pool can be an excellent centerpiece for the entire celebration: weddings, retirement, graduation, birthday parties, and so on.
A Recipe For A Perfect Day By The Pool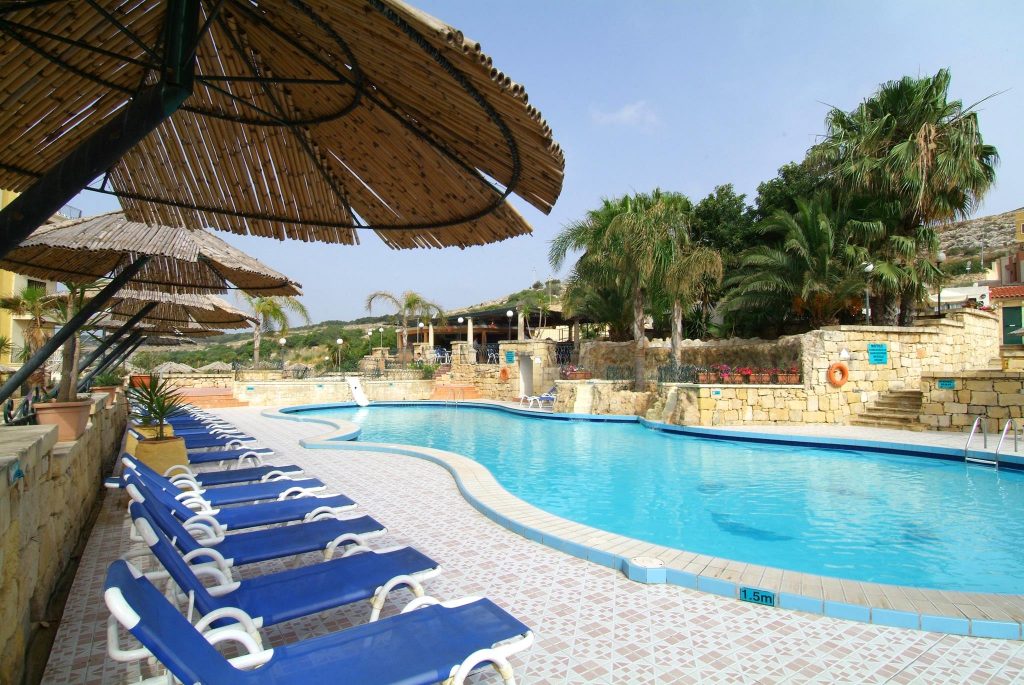 Prepare
Being prepared is always beneficial. For example, suppose you're going to spend the whole day at the pool. In that case, it is wise to pack enough sunscreen, and if you are coming with little ones, an emergency first-aid kit in case of injury. Accidents can happen, so it is always good to be well prepared.
Dress Appropriately
Dress like you're going to swim. Stay away from being in jeans or dresses. You don't want to be thrown into the pool wearing your nice clothing (it can happen), so wear a swimsuit.
Keep all electronics and precious items off to the side or away from the pool to avoid getting ruined.
Sunscreen, Sunglasses, and a Hat
Apply sunscreen to avoid getting sunburns, make sure you have your favorite hat on and sunglasses, and you are good to go.
Safety First
If you're attending the pool with children, remind them of general pool etiquette and safety rules. For example, advise them to walk instead of run when in the pool area.
Enjoy tasty summer delights at the Pool Bar
Swimming is a full-body exercise, so remember to relax, drink lots of liquids, enjoy a snack or a cocktail drink at the Pool Bar. Spending too much time without breaks can cause cramps.
Whether you're looking to lounge at a modish pool with a cocktail in your hand, or have a family with kids who want to splash around, there's a hotel in Malta with a pool that has just what you need. For instance, you can cool off here at our Porto Azzurro hotel.
Our Hotel, Porto Azzurro, is located in Xemxija Bay. This Bay is popular amongst boat enthusiasts. Nearby the hotel is the Is-Simar Nature Reserve and the Xemxija Heritage Trail. Hotel Porto Azzurro features a lovely free-form freshwater pool with extended sundeck areas. Snacks and drinks are available against payment from the Pool Bar, depending on weather conditions.
Come join us! Take a dip in the pool. For more information about a day by the pool in Malta, call on
+356 21 58 5171.
Need accommodation while in Malta? Check our self-catering apartments and hotel rooms here: Malta Accommodation.