Aparthotel and Self-Catering Holidays Dilemma. Every year it is the same. With joy and excitement, we are planning a well-deserved holiday, expecting the best. And regardless if you travel often or infrequently, it always pays off to learn as much as possible about different options for accommodation.
While many experienced travelers keep returning to aparthotel, other travelers opt for a hotel room's more familiar accommodation choice. So, why are self-catering holidays popular more than ever? What are the advantages? What to expect? Here are the 4 (four) most significant benefits:
Number 1. Value for money

Number 2. Home from Home experience

Number 3. Spaciousness

Number 4. Privacy
But before we dive into the self-catering accommodation benefits, perhaps it is good to first define the self-catering concept.
What is Self-Catering Hotel Accommodation & What is Aparthotel?
What is Self-Catering Accommodation?
Self-catering is the term often used to describe self-contained holiday accommodation, with facilities to prepare meals.
Self-Catering hotel accommodations are usually a studio room, one or two bedrooms apartments. Unlike a hotel room, they have a living area with a fully equipped kitchen with a cooker and fridge or kitchenette. In addition, many units have a patio or balcony.
What is Aparthotel?
Often, aparthotel provides self-catering options, just like our 3-star Porto Azzurro Aparthotel.

Aparthotel (or apartment hotels) is not a hotel and not an apartment. It's somewhere in between. The self-catering hotel accommodation offers ordinary hotel facilities and services and provides the same benefits as a quality hotel. It combines the flexibility of home with classic hotel services.

The aparthotel is a small apartment within a hotel.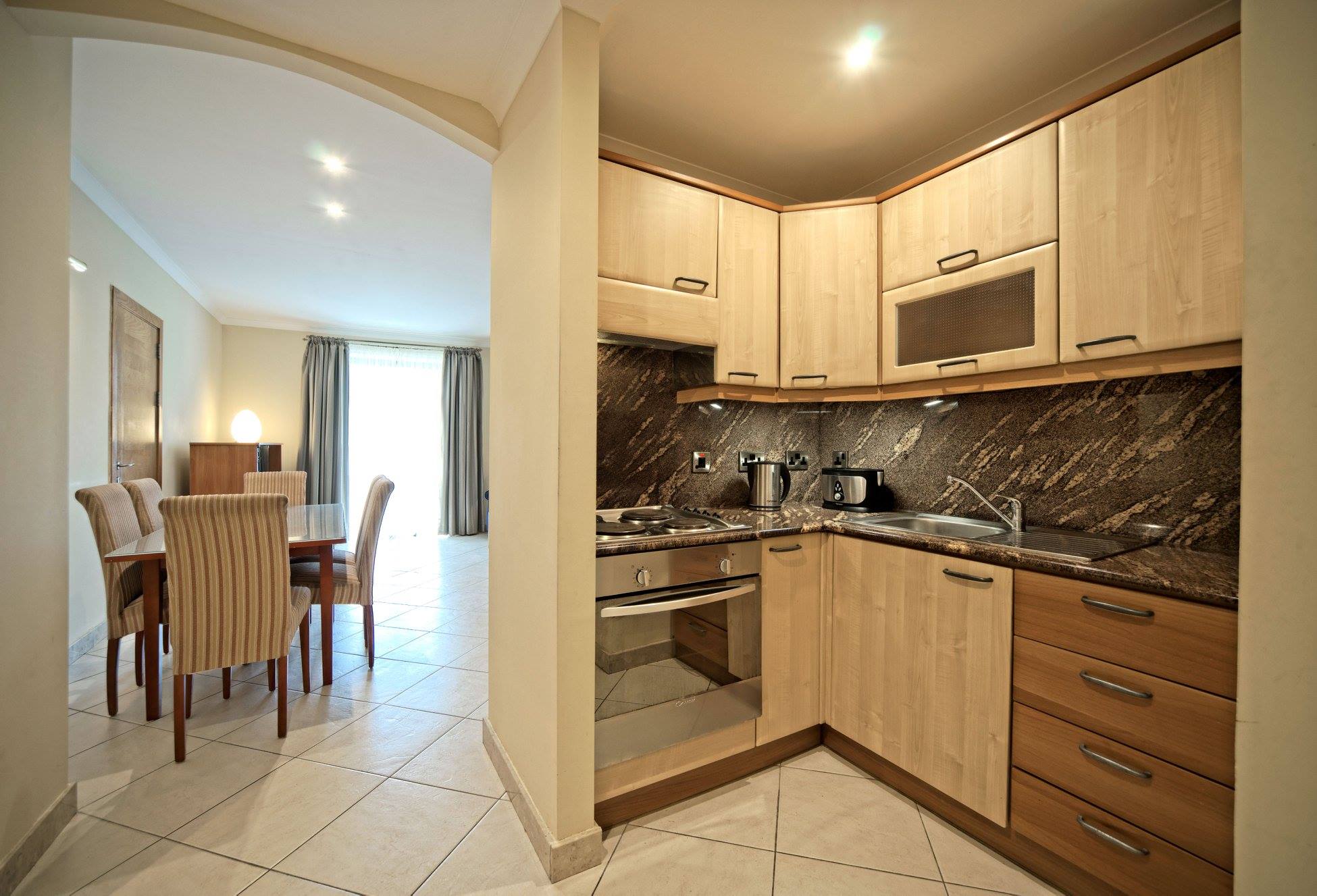 Who should consider an aparthotel self-catering for a next holiday trip?
Aparthotel is an ideal option for travelers looking for a more home-from-home experience or more independent travelers. For instance,
Families with children often look for all the comforts of home when searching for holiday accommodation. Aparthotel is perfect and often budget-friendly. Plus, everyone can have a separate room as well as a shared space.
Friends traveling together require more personal space. An aparthotel means they can enjoy their room and enjoy a shared dining space to spend time in or watch TV.
Want to stay and watch the sunset but worried you might miss dinner at the Hotel? No stress with self-catering.
Self-Catering Hotel Benefits
Value For Money – More affordable? Yes, please.
The self-catering Holiday tends to be more affordable, especially if you plan a family holiday. So, if you are looking for a budget-friendly holiday, wish to live like a local, and have an authentic experience, self-catering might be the answer, where you can spend according to your budget.
You can purchase inexpensive local food, cook yourself, eat at your apartment, and sometimes even prepare more extravagant food if you wish to. On a family holiday, this is an essential factor to consider, because not everyone wants to eat at the same time. The best part. If you decide to go out to have a meal, you still can. You will have the freedom to eat out at local restaurants or cook back at your catering accommodation. You can even choose to sample the local cuisine and wine at a local restaurant on some nights.
In self-catering hotel apartments, you can eat at whatever time is most convenient for you.

Home From Home Holiday

It is basically like having a home away from home. But isn't it a hassle to cook during the holidays? And you are right. For many, it might be. Who doesn't like to feel special? Restaurant food, room service, a bar… Many do. Some people opt-out of self-catering holidays mainly because they do not want the hassle of having to prepare meals for themselves.
But, for some travelers, eating out tends to be too expensive. Others might experience eating out during the holidays as being too monotonous, or they might have allergy concerns or food intolerance. So, having a fully equipped kitchen for this type of hotel guest, the aparthotel is an ideal choice.
Self-Catering is not all about food. To some people, keeping up with some routines is essential. It means you could do things as you usually do at home. So, for example, if your child loves to get up with you in the morning and play or watch his favorite cartoon, you can still do that while your partner is resting in another room.
Speciousness For More Comfort
Self-catering rooms are often larger than hotel rooms. They provide space for living and relaxing, bedrooms and bathrooms, and are likely to be entire apartments. As a result, you have the whole area to yourself, and there is no need to share communal space. Having more space means you will feel more comfortable, especially if you spend your Holiday with your family or large groups.
Speciousness is handy, especially if you carry massive suitcases. Then, you will have plenty of space to store your clothes.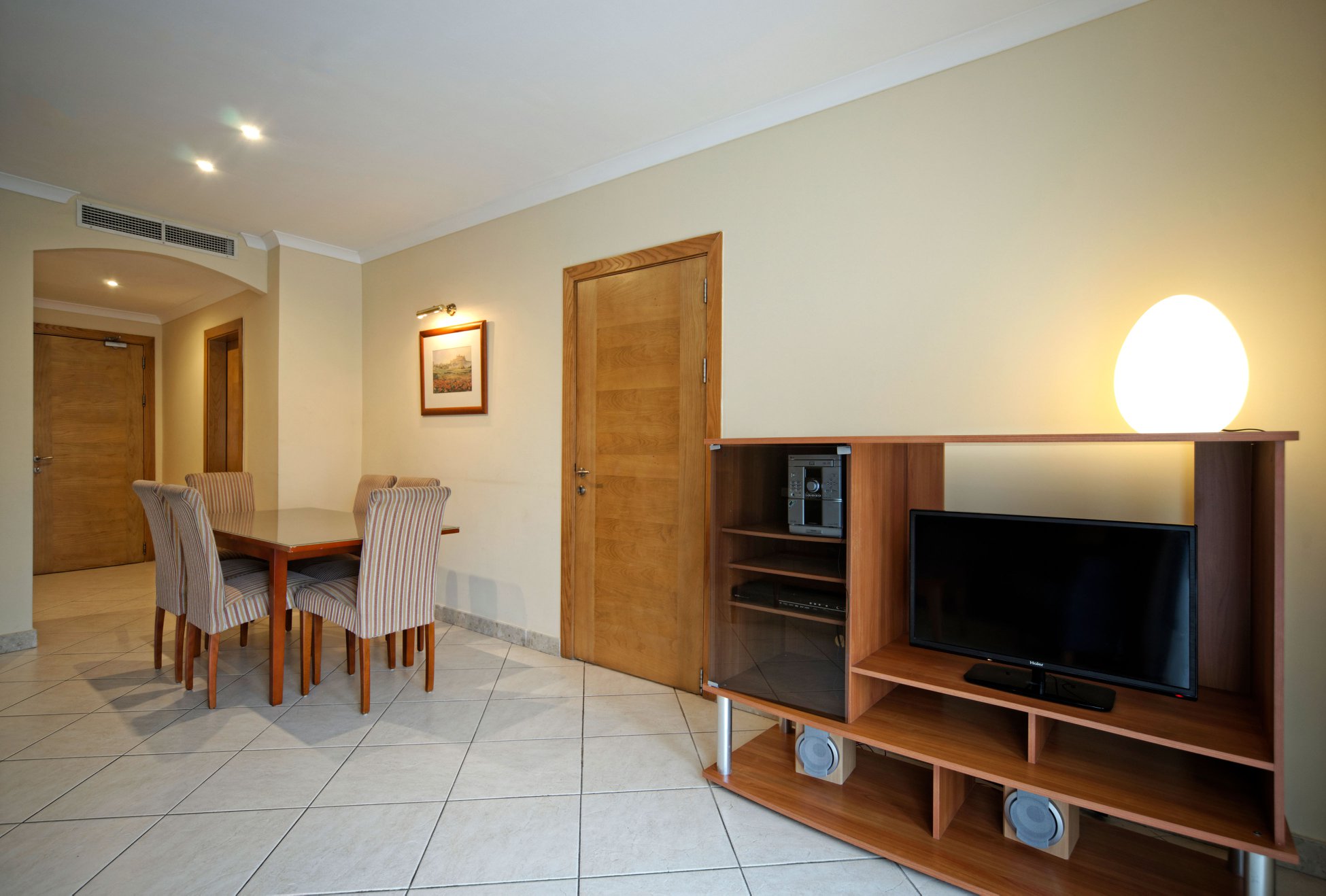 Privacy Equals More Intimate Evenings
Self-catering (two-bedroom) apartments are an answer to a relaxing, quiet, and intimate evening. Why? You do not need to share a bedroom as you would while staying in a hotel room. When you opt-in for aparthotel hotel accommodation, you get more freedom, more choice, and more beds. With a fully equipped kitchen, along with Wi-Fi, TV, and comfy living space, it means you can relax after a busy beach or shopping day. You get to wake up and go to bed on your own time, without having to worry if you will miss a meal. Remember, you aren't restricted to designated meal times. You choose to eat where, when, and what you want (no need to feel rushed).
If you are on Holiday with your family, you can put your children to bed in their room, and then enjoy your evening time with your partner on the balcony, making cocktails, watching TV in the living room.
If you want to make popcorn in the middle of the night, bake cookies, you can do it.
Self Catering Hotel Accommodation in Malta
At our 3-Star Hotel Porto Azzurro Aparthotel, we offer family-friendly self-catering studio rooms, one-bedroom or two-bedroom apartments. Plus, you can enjoy all our available facilities, such as our indoor (heated) and outdoor swimming pools.
Choosing to have a self-catering holiday is a fantastic way to enjoy a well-earned break away without having to give up all of those home comforts you have grown to love. Check-in and feel right at home for a few nights, weeks, or longer. We hope to become your first choice for stays in Malta – contact us today to find out more and book!
Porto Azzurro…Your 3-Star Choice!
Email: [email protected]
Phone: (+356) 21 58 5171