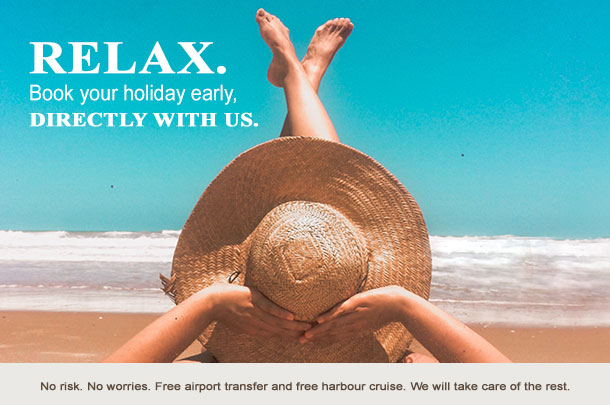 Direct Booking Benefits
Benefits Worth Up to €75
It is not only quick and simple to BOOK DIRECTLY with us through our website, but the advantages stack up when you book minimum 5 nights or more. Not only that, when you book directly with our hotel staff, we get to know what you like and we try our best to look after your special requests.
Exclusive Benefits for Direct Bookings – Worth Up to €75
When booking a minimum of 5 nights by calling (00356) 21585171 (Mon to Fri 9am-4pm local time), or on www.portoazzurro.com.mt, or by emailing info@portoazzurro.com.mt you are entitled to:
Free Airport-Hotel Transfer on Arrival and Hotel-Airport Transfer on Departure
Free Harbour Cruise, departing from Sliema creek (transfers to and from Sliema creek not included)
Terms and Condition on Free Airport-Hotel Transfer: Submit your Flight details upon your online booking, forward these details to info@portoazzurro.com.mt by not later than 7 days before your arrival, from Monday to Friday 09:00 to 17:00. Should this information not be submitted on time, you will not be entitled to the Free Airport Transfer.
The above offer is not valid on reservations booked through third party websites such as, but not limited to, Expedia, Booking.com, and Hotels.com.
---
It is very quick, simple and secure to book a room via our booking system.