Each hotel is unique. Each comes with its own story and its own style of accommodation. Here, at Porto Azzurro Aparthotel, we noticed a trend in why our guests choose to stay with us. Discover our guest recommendations when visiting Malta and explore their golden reasons why they choose Porto Azzurro. Here is what our guests tell us.
"Porto Azzurro and nearby walks. We come here to enjoy the quieter and greener parts of Malta. Just down the road within easy walking distance, is Simar Nature reserve. This is open on Sunday's and well worth a visit if you are a bird lover.

Just up the hill from the hotel is a nice walk to some Roman Baths. Following the Pilgrim's Way past some medieval beehives, then a very ancient Carob tree, past ancient cave dwellings and some medieval burial mounds. At the top of the hill the path joins a ridge path. To the right there is a view over St. Paul's Bay, and to the left, across the Kalkara ravine, of Selmun Palace.

There are lots of other local walks of interest, some going to Selmun Palace. A nice one that we enjoy is via Mistra Bay beach. There is a lane leading to it which passes under the middle of Triq il Mistra, a short bus ride up the main road from Porto Azzurro. Once more we enjoyed a comfortable stay at Porto Azzurro and also discovered more new to us, walking areas." Shared on TripAdvisor by Lawrie, Pat and Denise.

"Back to my favourite place! For me personally I love being at Porto Auzzurro love the tranquillity & plenty of buses nearby to get you around the island." Shared on TripAdvisor, by pma192, Sleaford, England.

"Food and things to do
1. The hotel itself does quite good food.
2. If you go to the hotel bar they can order a pizza(s) for you.
3. If you go out the hotel and turn right down to the main road and then left about 5 minutes walk up the road there are various restaurants which I went to. There is another one (straight away) if you turn right at the main road…

"Warm Welcome" … the hotel is well placed in terms of public transport with bus stops just down the hill and buses to both the North and South of the island easily accessible. There are lots of good restaurants in the area and we particularly enjoyed our meals at Porto del Sol, Zeus and Gosti in Xemxija. Porto Azzurro is a very good 3 star hotel that has a wide range of rooms from studios to large two bedroom apartments. The standard of cleanliness is very high and the staff are very welcoming. Shared on TripAdvisor, September 2017, by Christine G.

Fortress Xemxija Restaurant – Wine & Dine (image by Fortress Restaurant)

Things to do, there's:
1. The aquarium and the Bird sanctuary
2. The hop on-hop off bus to several different sites; which has various different routes depending on what day you go (including taking you to the ferry port to carry on in Gozo)
3. Different boat trips and tours, to lagoons and to Gozo and around Sites on the Main land of Malta." Shared on TripAdvisor by Robert P, United Kingdom

Malta National Aquarium (Image by Malta National Aquarium)

"Xemxija, beautiful location…. place in the sun!

Great location

away from the busyness of the island.

… and what beautiful surroundings. Easy to get to anywhere on Malta especially

nice beaches.

Great pool area for relaxation."

Shared on Trip Advisor by Mary Haber… Australia

.

"Totally recommended

The hotel is

located in a very pleasant area.

Many uphills and

near the water,

which is quite nice when you are waiting for a bus to come;

bus station is right next to the hotel as well.

If you're staying in this hotel, make sure you go to the

Bugibba which is a great nightlife

area located couple of bus stops away."

Shared on Trip Advisor by Patrycja.

—-

"Our first trip to Malta!

…Without launching into an essay of a review I would simply say that the Porto Azzurro, in my opinion, exceeds the excellent category ticking every box with everything you could possibly hope for. If I had to pick one aspect in particular it would be the

warm and friendly atmosphere

generated by both the layout and amenities at the hotel itself and the wonderful members of staff…"

Shared on Trip Advisor by

Wilko650,

Bristol, England

.

"A really nice time had by all" … As a base the hotel was perfect for us with good routes available by bus to north, Mellieha and also to Valletta and towards Bugibba and the aquarium... In terms of outside attractions close by: the bay is pretty and you can have a lovelywalk round on the seaside down the hill to the beginnings of St Pauls. If you walk down the steps or ramp almost opposite the hotel you can dip your toes in the sea and can easily see small basking lizards. The heritage trail, uphill directly ahead from the hotel entrance, is very picturesque and interesting, a must do.

Shared on Trip Advisor by Paul, Emma, Sophie and JosephPaul G, London, England, United Kingdom.
"Beautiful resort and beach, friendly helpful staff

. We went for walks and the beach is good for

fishing.

We found the

bus fares very cheap and easy to use.

On one day we went all round Malta in one day.

Valletta is a must see place,

especially

carnival time. Egg box Church worth a look

and

Marsaxlock

I think it's called, is a wonderful fishing village…"

Shared on Trip Advisor by lindashaw965, Rotherham, England
"Very welcoming staff…..very clean apartments" .

..We are guardians of our 7 year old grandson who has autism and a visual impairment so holidays are difficult for us to organise. We have found the perfect holiday location at Porto azzuro hotel.

Xemxija is a quiet, pretty resort.

The hotel is very well positioned for public transport all over Malta. The hotel is always busy but not crowded and the staff are lovely.

Malta is generally child-friendly.

Everyone was patient and kind with our grandson…

Shared on Trip Advisor by Sue R, Sunderland, England, United Kingdom.
What's your favourite reason you love to stay at Porto Azzurro? Do you have a recommendation for our guests? We would love to hear it! Send us an email at
[email protected]
or share your valuable thoughts on TripAdvisor, Porto Azzurro page.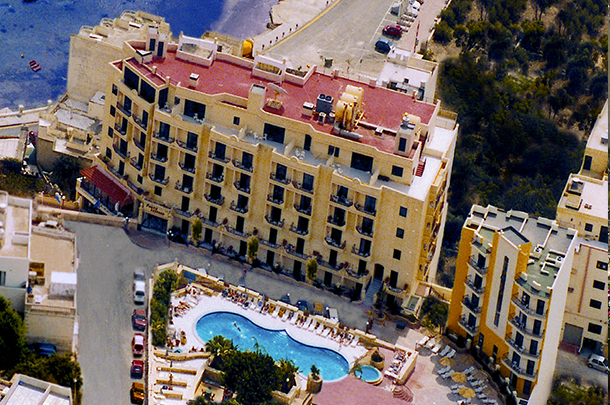 First I would take the bus to the Red Tower and walk along the western part of Marfa Ridge. Then I would get the bus from the Tower to Sliema, get myself a Bratwurst from the blue and white round trailer on the car park and sit on the harbour wall watching the boats.
After that I would catch the Ferry across to Valletta, and walk up to upper Barakka Gardens, the gun will have fired by then but it is still a terrific view point of the 3 cities. So, down the lift to the ferry to the 3 cities, a visit to the square in Vittoriosa and the cafe there for coffee and a sit down. Having gathered some strength I would then walk along the shore to Rinella, see the big gun and by then I would be pretty knackered, so time to catch the bus back to Valletta from whence another bus back to Xemxija and the Porto Azzurro.
I would then choose between dinner at the Porto Azzurro or the Shaukiewan Chinese restaurant, a 10 minute walk away.Of course this is all theory. In fact, my little old legs would not stand the pace and in any case, in each of the places I mentioned, there is sooooooo much to see and do. For me, just a day for the trip to Marfa Ridge followed by 20 min sunbathing on the hotel balcony. Then probably a snooze. I would have to post an account of my adventures on Facebook and read a few chapters of my book.
Later after dinner, a catch up in the Porto Azzurro Aparthotel lounge with other guests, there is always a lovely assortment of people to converse with. The day would end with a nice glass of red wine and a few more chapters. zzzzzzzzz nighty nite!
P.S. On a sunny day, a lovely picnic with bubbly and fancy food up on Marfa Ridge, would be the perfect day for me.
Malta from Oliver Astrologo on Vimeo.